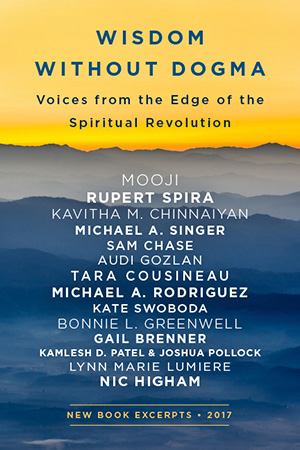 Here is an opportunity to receive a free e-book "Wisdom Without Dogma" that includes an excerpt from my upcoming book "When Spirit Leaps: Navigating the Process of Spiritual Awakening", to be released in April  My publisher, New Harbinger and Nonduality Press, is offering this collection of selected excerpts from several of their authors.
As New Harbinger writes "With these essential teachings, insights, reflections, practices, and real-life examples—written by renowned spiritual teachers and authors who speak from direct experience—you're sure to find the guidance and support you seek on your own spiritual journey."
I am honored and  excited to be part of this wonderful collection and encourage you to go to www.newharbinger.com where you can download for free this remarkable collection, and join their email list to get the first announcements when my book is released.  The sampling includes selections from:
Being Aware of Being Aware by Rupert Spira
White Fire by Mooji
Shakti Rising by Kavitha M. Chinnaiyan
The Untethered Soul by Michael A. Singer
Yoga and the Pursuit of Happiness by Sam Chase
Kabalah Yoga by Audi Gozlan
The Kindness Cure by Tara Cousineau
Boundless Awareness by Michael A. Rodriguez
The Courage Habit by Kate Swoboda
When Spirit Leaps by Bonnie L. Greenwell
Suffering Is Optional by Gail Brenner
The Heartfulness Way by Kamlesh D. Patel and Joshua Pollock
Undivided Love by Lynn Marie Lumiere
Living the Life That You Are by Nic Higham
We invite you to explore all of these books, and wish you true well-being, peace, and joy.